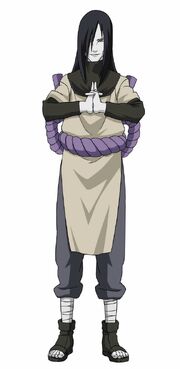 Orochimaru je v teamu Jirayou a Tsunade s velitelem Hiruzenem Sarutobim. Jednou když byl o něco starší unašel lidi na své experimenty. Taky chtěl být 4 hokage, ale Sarutobi ho odmíítnul a stal se hokagem Minato Namikaze. Ve 2 serii napadl Team 7 a kousl Sasukeho. Ve 3 serii napadl Konohu a zabil 3 hoksge což byl jeho bývalý sensei Hiruzen Sarutobi. Ve 4 serii poprosil Tsunade, aby zase zničil Konohu. Tsunade, ale odmítne a začne bitva mezi Jiraiyou,Tsunade,Shizune a Narutem proti Orochimarovi a Kabutovi. Nakonec vyhrajou naši hrdinové. Ve shippuudenu bude bojovat protu narutovi kde vyhraje on. Taky ho ve shippuudenu zabije Sasuke. Pozdeji Sasuke, Juugo a Suigetsu oživi Orochimara a ten oživí Hokage, aby mu pradili. Když se rozhodne pujdou do války a Orochimaru, Karin a Suigetsu uzdravují Tsunade a ostatní Kage
Ad blocker interference detected!
Wikia is a free-to-use site that makes money from advertising. We have a modified experience for viewers using ad blockers

Wikia is not accessible if you've made further modifications. Remove the custom ad blocker rule(s) and the page will load as expected.