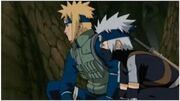 Kakashi Gaiden
Edit
Minato se objevil poprvé v manze Kakashi Gaiden kde byl sensei Kakashiho Hatake, Obita Uchihy a Rin. Minato se v Kakashi Gaiden objevil naposled, Když zaachranoval Kakashiho, který jediný z Minatovu Týmu přežil
Zrození Naruta
Edit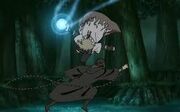 Když se stane už hokage tak si vezme Kushinu za ženu a má s ní díte syna jménem Naruto, ale v tom se objeví Tobi a vyhrožuje, že pokud mu nedá Kyuubiho zabije Naruta. Minato rychle vezme Naruta a dá ho do bezpečí zatím Tobi vezme Kushině Kyuubiho a jde zničil Konohu, ale Minato ho porazí
Peinova Invaze
Edit
Pein ůtočí na Konohu a Naruto se učí Sage Mode. Když se vráti vidí jak je Konoha zničená a jde hned s Peinem do boje. Narutovi to moc nejde, ale hned přibězí Hinata na pomoc, ale Pein jí dorazí. Naruto se naštve a použije Kyuubiho, ale v tom se objeví Minato a zastaví ho. 
Sasukeho Rozhodnutí
Edit
Pak se Minato objeví v manze jako edo tensei a pomahá Sasukemu se rozhodnout. Když se Sasuke rozhodne tak jdou hned do boje proti Madarovi a Obitovi.
4. Válka Ninju
Edit
Minato se v boji objeví jako první ze 4 Hokagu. 
Ztracená Věž
Edit
Road To Ninja
Edit
POPIS POTŘEBUJE DOPLNIT
Ad blocker interference detected!
Wikia is a free-to-use site that makes money from advertising. We have a modified experience for viewers using ad blockers

Wikia is not accessible if you've made further modifications. Remove the custom ad blocker rule(s) and the page will load as expected.