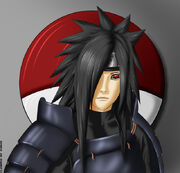 Madara je vudce Uchiha klanu. Má bratra kterýmu ukrad Mangekyou Sharingan. Take bojoval s 1.Hokagem. Senju a Uchiha se neměli moc rádi, ale Senju chtěl mír. Všichni jim věřili až na Madaru ten jim řekl, že je to past a měl pravdu. Taky řekli Itachimu at zavrazdí celý klan. Když na Obitovi spadne kámen tak ho Madara zachraní. Když Obito s Tobim uteče zachranit Kakashiho a Rin tak se vrátí a Obito se zeptá Madary o zemi snů kterou chce vytvořit. Madara mu řekne i o Nagatovi a schopnosti co mají Senju a Uchiha dohromady a umře.
Madara Uchiha

Věk

100

Karma

Zlá

Rodina

Fugaku Uchiha, Shisui Uchiha, Obito Uchiha, Itachi Uchiha, Sasuke Uchiha

Přátelé

Zetsu, Tobi, Nagato, Senju Hashirama
Ad blocker interference detected!
Wikia is a free-to-use site that makes money from advertising. We have a modified experience for viewers using ad blockers

Wikia is not accessible if you've made further modifications. Remove the custom ad blocker rule(s) and the page will load as expected.