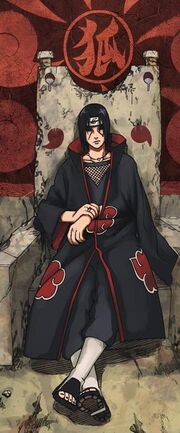 Itachi zabil celý uchiha klan kromě svého bratra Sasukeho který se ho chce za to mstít a tak mu Itachi řekl Až budeš mít oči jako já tak pak přijd. Sasuke e kvuli němu přida k Orochimarovi, aby zesílil a také se stalo. Orochimaru mu už nic nemohl naučit tak ho zabil. Pak se připravuje zabít Itachiho kterýho pak porazí a Itachi mu da své schopnosti. Pak od Madary zaslechne Itachiho pravdu a pripravuje se zničit za to Konohu.
Itachi Uchiha

Věk

21

Titul

Akatsuki

Karma

Neutralní

Rodina

Fugaku Uchiha, Shisui, Uchiha, Obito Uchiha, Madara Uchiha, Sasuke Uchiha

Akatsuki

Pein, Konan, Kisame, Hidan, Kakuzu, Deidara, Sasori, Tobi, Zetsu
Ad blocker interference detected!
Wikia is a free-to-use site that makes money from advertising. We have a modified experience for viewers using ad blockers

Wikia is not accessible if you've made further modifications. Remove the custom ad blocker rule(s) and the page will load as expected.