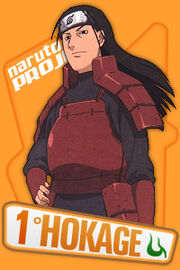 Hashirama Senju je 1. Hokage, bratr 2. Hokage Tobirami, strýc 5. Hokage Tsunade a sensei 3. Hokage Hiruzena Sarutobi. Jeho kdysi dávným přítelem je Madara Uchiha s kterým kdysi založil Konohu. Když byli malý jejich sen byl vytvořit si svou vlastní vesnici, ale když byli dospělí tak spolu valčili. Hashirama ho nutil, aby se stal jeho přítelem jinak už se jejich sen nikdy nesplní. Tak mu Madara řekl asi fakt chce být jeho přítel musí zabít svého bratra nebo sebe. On si vybrál svojí smrt a, když se už málem zabil tak ho Madara zastavil a řekl mu, že má jeho důvěru a vytvořili vesnici jménem Konoha, ale ještě jim vrtalo hlavou čí bude vůdce a Madara řekl HO-ohen KAGE- stín takže vznikl Hokage- ohnivý stín, ale Madara zešel k temnotě. Hashirama se objevil v Orochimarově invazi a v manze kde pomahá Sasukemu z jeho rozhodnutí. Když už se Sasuke rozhodne jde pomoct Narutovi porazit Obita i s Hashiramou.
Ad blocker interference detected!
Wikia is a free-to-use site that makes money from advertising. We have a modified experience for viewers using ad blockers

Wikia is not accessible if you've made further modifications. Remove the custom ad blocker rule(s) and the page will load as expected.